About a week and a half ago, we went to Disneyland. It was a whole lot of fun to meet up there with Eliza and Leigh and also Matt and Cristina. Of course, we had to pick the hottest day of the week (high of 104) to go there. Of course, everyone knows how much I love the heat (yeah, right). We finally got there at about 11 and we had to park and go to the trams, which took some time. Not to mention, after we slathered the girls in sunscreen, both of them rubbed it into there eyes. That, of course, led to their eyes being irritated for much of the day! Poor things, needless to say, I felt really awful about it. I guess the benefit was that they did not get sunburned! Especially poor Cecily, my white girl.

Cecily was excited to see Cinderella's castle. (please excuse the quality of these photos, as most were not taken with my camera.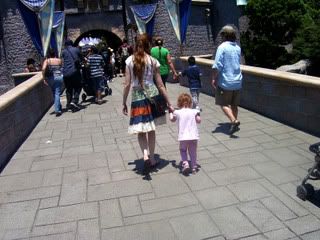 Though she didn't really get into it until she went through Minnie and Mickey's houses and....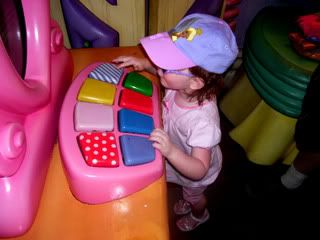 Met the mouse himself! She was practically bursting with excitement!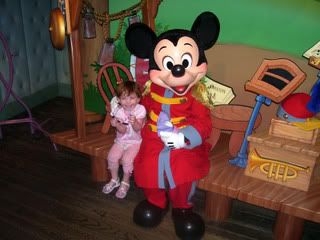 Don't we look hot? No really, don't we?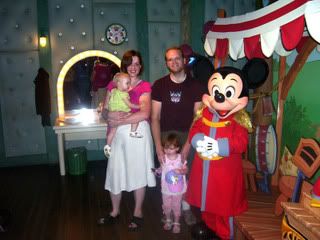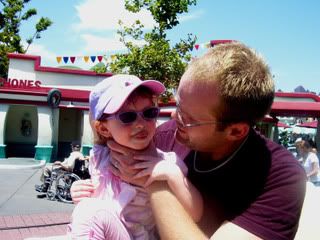 Cecily got to ride on the carousel and on the Dumbo ride, while the other grownups rode the big rides in shifts, and Cordelia slept. She had a great time. At lunch, she zonked out for a solid two hours!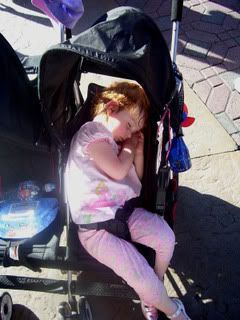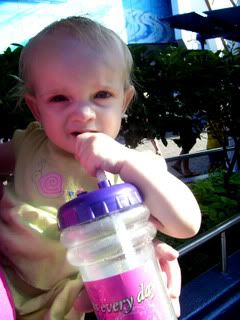 Then she woke up in time for the parade, which was actually quite cheesy!: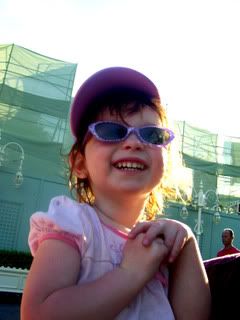 A nice pic of Leigh and Weeza: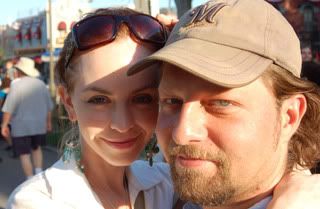 Eliza channeling Kirsten a little bit here: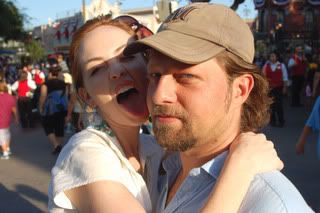 The last ride of the day. The park closed earlier due to grad night. Weeza is part cat.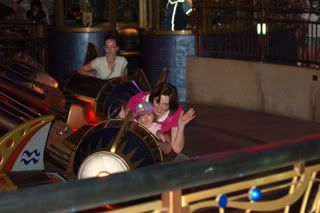 Then it was time to watch the fireworks: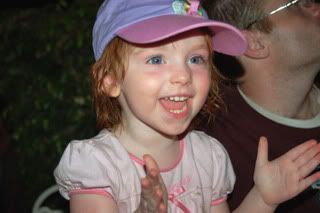 And head out: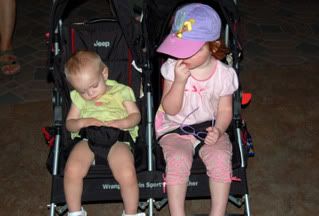 We tried to avoid the rush on the trams and hung out at Downtown Disney. We listened and danced to a band and then finally figured out how to walk to the parking structure. We dropped off Eliza and Leigh and headed home. Finally getting there at about 2 am!

We had a good time, but maybe next time we'll go when it's not as busy nor as hot. Much thanks to Eliza and Leigh for inviting us along!