I love to bake. It is one of my favorite hobbies, yet one that can be terrible for my waistline.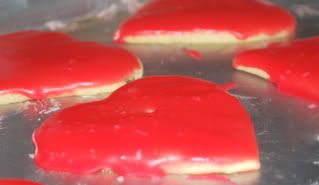 At any rate, Sunday I made some sugar cookies. "Cookie Hearts" is what Cecily called them. I made a double batch and sent some over to my sister who needed a bit of a pick me up. Generally, I just make a simple butter frosting, but my issue with that, is that it often is just too thick and rich for the cookie and ends up with a sugar overload. So I thought, why not a glaze? I took out my trusty Betty Crocker Cooky Book (more on that in a minute) and made a Browned Butter Glaze. The glaze was rich but not overpowering, very buttery with almost a caramel flavor. It went on thin and I was able to frost many in a very short time.

It is also very simple:

Melt 1/4 cup butter over medium high heat, until golden brown (the darker it gets, the more buttery it will taste). Add 1 cup powdered sugar and 1/2 tsp vanilla (almond would work too). Color with food coloring. Add enough hot water to make a fairly thin glaze. Dip cookies face down and shake off excess. This should easily cover a batch of sugar cookies.


Central to my cookie baking is my Cooky Book. It was originally published in 1965. It contains the recipes of our most treasured family cookies (the best) chocolate chip cookies, molasses crinkles and many others. I am always finding new things to make from it.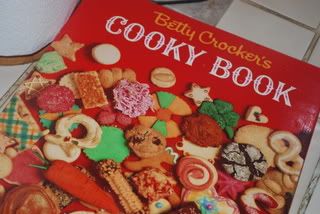 A couple years ago, I was looking at the newspaper, and there was an insert that had a reprint of the 1950s Betty Crocker cookbook. As a free gift, you could get the Cooky Book! I had to look it up and check if it was the right one, as our original was missing its cover. I saw the sample pictures and pages and was certain it had to be it.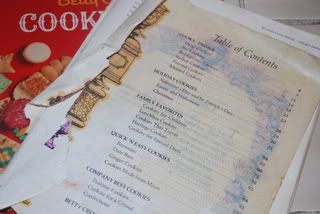 The holy grail of chocolate chip cookies: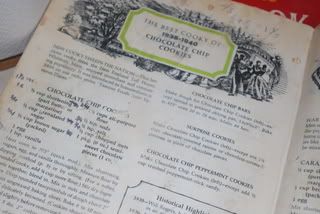 It was! So, I told my mom and that happened to be what I got for my birthday. I highly recommend it. While it does include some oddities (Trix cookies, anyone?), there are some real gems in there.