And what have we done? Another year over...

Here is our official Christmas card pic. Some of you should have recieved it, but I generally suck at these sorts of things:




So, I still feel stuck somewhere in November. I can't believe that Christmas is over already. It was hectic, but we had some fun.

Cordelia knocked out on Sunday: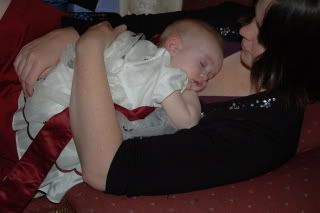 On Christmas eve, we went to Nate's Aunt Freda's house (his mom's sister) and had dinner, visiting and presents. All the kids got dressed up and we almost got a couple pictures of them all being still.

Top: Aubrie holding Cecily, Emily holding Jason (their second cousin), Jolie holding Wyatt, Ryah and Aiden (also second cousins). Bottom: Cordelia, Gavin holding Landon, and Clara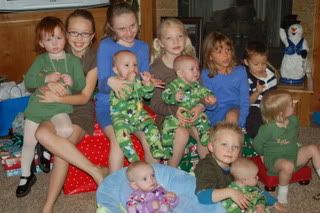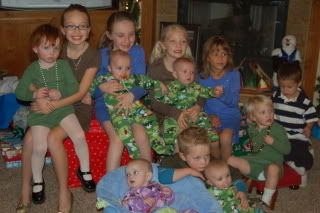 Cecily & Clara holding conference:



It was loud and busy and I was glad to have some peace and quiet on the ride home, which was rather foggy. We spent some time with my family, made some lebkuchen (German honey cookies) and called it a night.

Christmas morning, we went to my sister, Kirsten's, house and had breakfast and stockings. I got very few pictures of either of the kids. Cecily moves so fast, I usually just get the back of her head.

Cecily loves the ducks from her stocking:


Cordelia let Gramma hold her: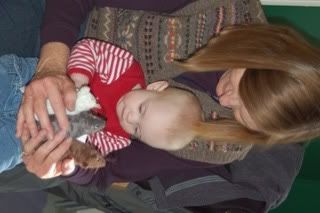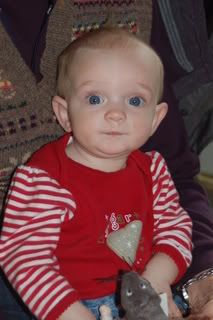 Then it was off to my parents' house, for yet another round of gift opening. Cecily had a great time opening everything.

A rarely seen event: "thanks, Aaron!"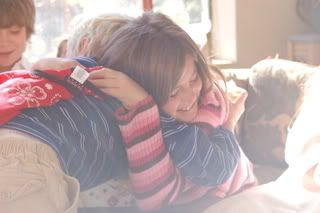 Cecily madly unwrapping: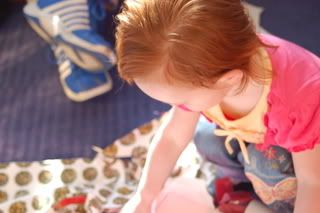 Then, we went to Bakersfield. After naps in the car, everyone but me, the family was feeling refreshed. We had dinner with the whole Heywood crew. Then we had dessert with even more Heywoods, Beans, Bairs and McDonoughs, including the youngest addition, Kristopher Connor who was all of two weeks and six pounds. I could not believe how itty bitty he was.

Then back to the in-laws for gifts. We then played on the Nintendo Wii and finally went home.

Whew, I am tired just thinking about it.